NJANA CAREs
Our Mission is to Provide Assistance to Individuals and Communities at Risk for Health and Wellness Disparities in New Jersey through Charitable Giving.
NJANA CAREs is the newly formed charitable arm of the New Jersey Association of Nurse Anesthetists (NJANA). "CAREs" stands for "Charity and Relief Expenditures."
NJANA represents more than 800 Advanced Practice Nurse – Anesthesia providers (APN-A's)* across our great state. As APN-A's, caring is our calling. We care for patients in New Jersey's hospitals, surgery centers, and doctors' offices, providing safe, compassionate anesthesia care to hundreds of thousands of patients each year.
Our caring doesn't end at the operating room doors—it extends beyond our workday and manifests itself in giving our time, energy, and other resources to those in need throughout our state.
NJANA CAREs is the embodiment of nurse anesthetists' ability and willingness to give extraordinarily, wherever and whenever care is needed to be given.
NJANA CAREs
is dedicated to offering support to people who require assistance in all
areas of wellbeing such as mental, hunger, healthcare, homelessness, or life improvement.
NJANA's members believe that collectively we can make a significant difference in the lives of those whose well-being is in jeopardy. We are committed to supporting the communities of New Jersey through the current health crisis any way we can.
CAMPAIGNS:
CHEESE LOVERS GIFT CARDS: Help NJANACares support Project Refit and enter to win one of two $100 Gift Cards to spend on a wonderful at-home virtual cheese educational experience with Fromagination, Wisconsin's highly coveted home for artisanal cheeses and meats. Gift Cards can be used to purchase high-quality cheeses, chocolates, and meats or to participate in their entertaining cheese educational experiences. Each class registration includes enough cheese products for 2 people to enjoy.
Entries must be submitted by 3 p.m. on April 17, 2021 to be included in the drawing. Drawing will take place during NJANA's virtual conference at 4 p.m. after the last lecture on April 17, 2021.
Buy a ticket: $20 each with no limit on purchase — Payments must be made using Venmo @njanacares include the words "cheese raffle"

Send an email to tcastleman9@gmail.com to confirm ticket purchase and ensure your name is included in the raffle.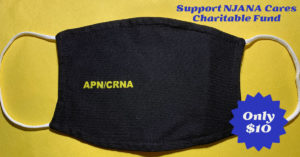 APN/CRNA Facemasks: Get them while they last — soft black cotton masks with an interior pocket for a filter and embossed with gold letters APN/CRNA are on sale for only $10. These masks make great holiday gifts and awesome recognition items for colleagues and students during National Nurse Anesthetists Week in January (orders must be placed by Jan. 4 to receive in time for Nurse Anesthetists Week). Proceeds will continue to support our efforts to assist those in need during this health crisis.
To order:
Email your name, mailing address, and number of masks ordered to Tcastleman9@gmail.com. Payments should be sent via venmo to @njanacares.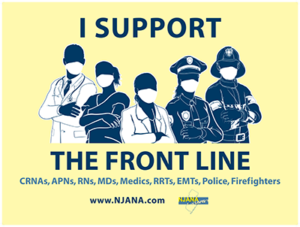 NJANA CAREs "I SUPPORT THE FRONT LINE" lawn-sign campaign: Donations to this campaign helped support health care workers serving on the front line of caring for our communities during the COVID-19 pandemic. Money raised has been used to foodbanks and local restaurants that provide meals to our first responders, healthcare providers and at-risk populations. Please purchase a sign and proudly display it on your front lawn to let everyone know you CARE. Signs are still available! Only $20 for 1 or Special Price $30 for 2!!!!
To order:
Email your name, mailing address, and number of signs ordered to Tcastleman9@gmail.com. Payments should be sent via venmo to @njanacares.
Local restaurants & food banks that have received donations:
Blend on Main, Manasquan

FLAG: Front Line Appreciation Group – Cranbury

CUMAC Food Bank in Patterson

Chef Lou's Army in Manasquan


South Jersey Food Bank in Pennsauken
NJANA CAREs helps Children: Donations have been made in 2019 and 2020 to support the Shriners Children's Dyslexia Centers of Philadelphia, a non-profit organization dedicated to providing the needed resources and educational efforts aimed at helping children overcome this disability and to succeed in life.

NJANA CAREs participated in the Winter Warmth Drive, sponsored by the Office of Assemblymen Mazzeo & Armato, donating 12 new children's coats, 56 pairs of socks, and 25 hats/glove/scarf sets to help children in need in Atlantic County.
Board of Trustees:
President: Tracy Castleman, MS, CRNA, APN-A
Vice President: Nicholas Blank, MSN, CRNA, APN-A
Secretary: Jonathan Katz, MSN, CRNA, APN-A
Treasurer: Maureen McCartney Anderson, DNP, CRNA, APN-A
*APN-A's are also known as Certified Registered Nurse Anesthetists (CRNAs)